Donna's
Good

Things

Launches

Website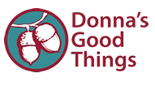 Donna's Good Things Foundation launches their new site. Stellar Grafx built this site from design to development. This site is controlled by Stellar Grafx's custom content management system, (CMS) with SEO functionality was custom built for the needs of the foundation to mange this site.
Sheila and Jeremy started this foundation and website with the vision that the best way to honor and remember their precious daughter was to do good works in her name. Donna's Good Things works to provide joyful opportunities for children facing adversity and aims to:
Provide joyful opportunities for children facing adversity, be it economic, familial, social or health related;
Encourage your good things by providing an online community where folks can share in words or photos something they've done influenced by Donna's inspiration.
Stellar Grafx  and Donna's Good Things are planning many more updates to this website so that visitors become more informed and share in their good things.